Master of Social Work Online
500-900 Hours Field Placement
Download a FREE Brochure
To get yours and speak with an enrollment counselor, complete the form below.
Note: All fields required.
Pursue Your Passion & Promote Mental Health and Recovery
Address Complex Mental Health and Social Issues with A Focus on Clinical Social Work
Gain the recovery values, approach, and tools to create a more just and humane society by earning your Master of Social Work degree online with Utica University. Bring your vision for the promotion and treatment of mental health to life through a program that will equip you with the ability to respond to and provide innovative solutions that promote dignity, autonomy, and mental health among diverse populations.
Utica University's fully online and flexible approach enables you to pursue your academic and professional goals while still maintaining a healthy work/life balance. Choose from our MSW – Advanced, which will allow you to complete the program at an accelerated pace if you've earned a BSW, or the MSW – Traditional, which has no BSW requirement. Upon graduation, you'll be prepared for your state's licensure exam(s).1 The MSW Program in clinical social work is currently a candidate for accreditation by the Council on Social Work Education's Commission on Accreditation (CSWE-COA).3
The Utica Difference: Recovery-Focused Principles
The curriculum in our Master of Science in Social Work program is unique in that it focuses on the recovery of individuals, families, and communities affected by trauma, substance use, and mental health disorders. We emphasize peer support, client dignity, embracing cultural differences, and self-improvement to help those in need.
Advanced Standing Program
With our advanced standing degree option, you can utilize your Bachelor of Social Work degree to move through the program more quickly. This option reduces the program length to 12-16 months while maintaining the same commitment to a high-quality social work education. This option will also save time by:
Reducing the credit hour requirement to 30
Reducing fieldwork hours to 500
Rigorous Coursework & Research-Based Skills Development
The coursework is grounded in the fundamentals of social work theory with a focus on practice to include diagnosis and assessment of mental health and substance use disorders, motivational interviewing, trauma-informed care, couples and family intervention, and cognitive-behavioral therapy. Specific classes include:
Cognitive Behavioral Therapies
Understand and apply counseling strategies that employ cognitive and behavior techniques to assist with understanding and solving problems from a strengths-based perspective
Mental Health Policy
Emphasis on achieving quality and addressing disparities in mental health policies and service delivery issues
Trauma and Recovery
Emphasis on diversity and use of social work ethics and values when working with survivors of abuse and trauma
Clinical Case Evaluation
Understand and apply the principles of single-case design to help evaluate and improve one's clinical practice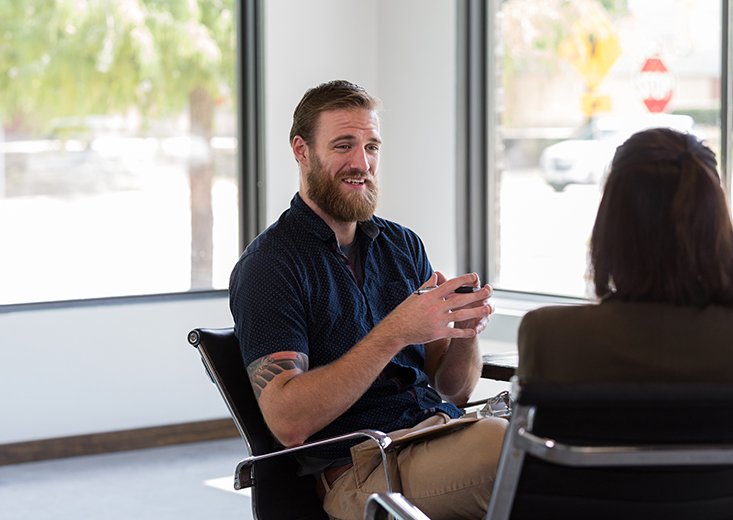 Find Greater Career Options By Learning to Serve Others
Our practitioner-based faculty will ensure you're fully prepared for state licensure and entry into one of the most diverse fields in health care. With clinical skills in compassion, empathy, communication, and problem solving, you can seek a wide variety of positions including:
Hospital, psychiatric, or group social worker
Social work program planner
Family therapist
Substance abuse counselor
Mental health policy analyst
Private practice clinician
Disclaimers and Sources
Professional licensure or certification may be required to practice, advance, or specialize in social work. The Utica University Online MSW program is registered in NYS, so it is designed to prepare students to apply for applicable licensure or certification in accordance with New York educational requirements for licensure. Students should consult with their state or provincial regulatory board to confirm requirements for licensure in their state. For more information on State Authorizations and licensure, please complete the Request More Information form or call now to speak to an Enrollment Counselor.
"Social Workers | Occupational Outlook Handbook," U.S. Bureau of Labor Statistics. Retrieved March 2021 from https://www.bls.gov.
Utica University's MSW program in clinical social work is currently a candidate for accreditation by the Council on Social Work Education's commission (CSWE) on accreditation.

Candidacy status affirms the program meets the initial criteria set by the CSWE to move forward with the accreditation process. This allows all students in the program to date to be recognized as graduating from an accredited program once the program achieves full accreditation, expected by 2024.

Candidacy by the Council on Social Work Education's commission on accreditation applies to all locations and delivery methods of an accredited program. Accreditation ensures that graduates have met the educational requirements to practice as a Licensed Clinical Social Work (LCSW) and provides reasonable assurance about the quality of the program and the competence of students graduating from the program.

For more information about social work accreditation, you may contact Accreditation.