Online M.S. in Financial Crime and Compliance Management
Option: CTCE Certification
Download a FREE Brochure
To get yours and speak with an enrollment counselor, complete the form below.
Note: All fields required.
Your Fraud-Fighting Mission Starts at Utica
Develop the Mindset and Methods for Defeating Fraud
Take a stand against data breaches, financial fraud, internal corruption, and even organized crime by arming yourself with the managerial, technological, and analytical skills that enable you to identify, prevent, and protect organizations from fraud and financial crimes. Engage your investigative mind and put your analytical abilities to work with an online degree program designed to help you advance in – and eventually lead – fraud prevention efforts at any organization, large or small, public or private.
Utica University's fully online and flexible degree programs enable you to balance your personal and professional responsibilities while gaining the analysis skills and valuable insights to create positive change for organizations in health care, education, and more.
Advance Your Competencies with the Latest Technologies and Skills
Utica University's online M.S. in Financial Crime and Compliance Management combines the areas of management, technology, and analytical skills with a global understanding of economic crime. The innovative curriculum is designed to advance the competencies of experienced professionals in law enforcement, private corporations, government, and military in managing advanced resources to combat financial crime. This program will also support your preparation for the Association of Certified Fraud Examiners (ACFE) and Certified Anti-Money Laundering Specialist (CAMS) examinations.
Highlighted Courses
Fraud Management: Risk and Compliance
Application of principles and practices of compliance and operational risk assessment and mitigation to the management of fraud prevention detection, and investigation.
Advanced Fraud Analysis
Designed to familiarize students with innovative analytic approaches used to perform complex fraud analysis. Topics include: link analysis, data mining, advanced statistical tools, case management systems and expert system approaches such as neural network early-warning software.
Fraud Management and Technology
Examines the challenges of management in an increasingly technological environment along with the history and evolutionary development of counter-fraud technology. Evaluates the integration of fraud management in the development of new corporate products or instruments, and anticipates new forms of fraud based on the application of new and projected technologies.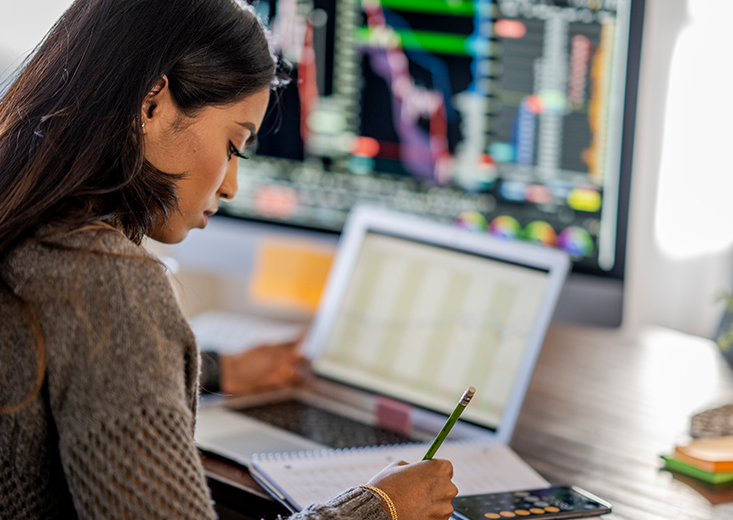 Opportunities Abound for Financial Crime Graduates
Innovation and new technologies not only bring exciting opportunities to businesses worldwide, but they also invite new and costly threats. Plus, the evolving nature and frequency of attacks means the demand for highly trained professionals with anti-money laundering, risk management, and threat detection/prevention skills is at an all-time high. With your Utica master's degree in hand, you'll be ready to make the most of the opportunities available now and for years to come.
Top 11 Jobs in Fraud and Financial Crime (w/2021 average annual salary)4
Fraud Risk Analyst ($52,325)
Fraud Investigator ($59,908)
Forensic Accountant ($72,735)
Financial Examiner ($62,650)
Fraud Detection Analyst ($42,100)
Insurance Claims Investigator ($44,890)
Fraud Prevention Analyst ($50,145)
Internal Auditor ($72,780)
Director of Enterprise Risk Management ($145,621)
Compliance Officer ($85,800)
Chief Risk Officer ($260,300)
Sources and Disclaimer
"Report to the Nations | 2018 Global Study on Occupational Fraud and Abuse." Association of Certified Fraud Examiners (ACFE). Retrieved on July 19, 2021 from https://s3-us-west-2.amazonaws.com.
"2020 True Cost of Fraud Study: E-commerce/Retail Edition." LexisNexis Risk Solutions Group. Retrieved on July 19, 2021 from https://risk.lexisnexis.com.
"Occupational Employment and Wages, May 2020 | 13-2061 Financial Examiners." U.S. Bureau of Labor Statistics. Retrieved on July 19, 2021 from https://www.bls.gov.
"Fraud Risk Analyst Salary." Salary.com. Retrieved on July 19, 2021 from https://www.salary.com.