Master of Science in Data Science Online
Accessible, Affordable, Innovative Degrees Online
Download a FREE Program Brochure
It's packed with program details, courses and more. To get yours and speak with an enrollment counselor about financial aid, complete the form below.
Note: All fields required.
100% Online & Fully Flexible
See Why A Data Science Degree Online Computes for You
Get in on the ground floor of one of the fastest-growing careers with a Master of Science in Data Science (M.S.D.S.) degree online from Utica College. Learn how to effectively harness the power of information while simultaneously helping organizations leverage social data to solve complex problems.
Utica College's fully online and flexible degree programs enable you to balance your personal and professional responsibilities while gaining the analysis skills and valuable insights to create positive change for organizations in business, health care, education, and more.
Data Science has been one of the top two jobs in the United States for six consecutive years1
Average annual salary for a data scientist is more than $113,0002
Demand for data science skills will drive a 27.9% increase in employment in the field through 20263
Data Science Specializations
Data science is advancing at the speed of the Internet, which is a primary reason your studies will emphasize data analysis within a social context.
Apply data science methods and theories to social science research and policy development
Explore how data science is used for business management and decision making
Apply data science knowledge and skills to cybersecurity and computer forensics
Manage corporate and advanced technological resources devoted to combatting economic crime
Design your own specialization in data science with assistance from the program director
M.B.A. with a Specialization in Data Analytics: Use theoretical modeling and real-world processing of data to create and implement business-forward solutions
How Will You Learn & Grow?
Online learning is soaring in popularity, especially for those with irregular schedules and no/little access to a physical campus. Utica College presents online learners with the same rigorous curriculum, esteemed faculty, alumni network, and collaborative community found on campus. Make the decision to acquire the knowledge and skills that could take you to the next step in life and Utica College will be here to support you every step of the way.
A Curriculum That Caters to You
The M.S.D.S. degree online includes 15 credit hours in the data science core, followed by 12 credits in your specialization, and a capstone project for three final credits. In less than two years, you'll build your credentials across four primary subject areas.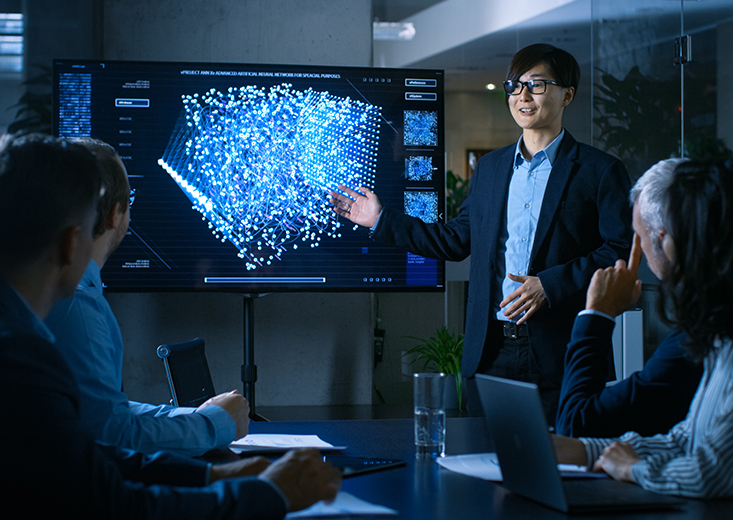 What Could You Do with Your M.S.D.S.?
With your degree from UC, chances are you'll become one of the most sought-after prospects in a fast-growing field. By enabling you to specialize your degree, you can direct your program toward your career interests and goals. Potential job titles include:
Data Scientist
Operations Research Analyst
Survey Researcher
Market Research Analyst
Data and Analytics Manager
Director of Risk and Business Analytics
Sources
"50 Best Jobs in America for 2021," Glassdoor, Inc. Retrieved March 2021 from https://www.glassdoor.com/List/Best-Jobs-in-America-LST_KQ0,20.htm.
"Data Scientist Salaries," Glassdoor, Inc. Retrieved March 2021 from https://www.glassdoor.com/Salaries/data-scientist-salary-SRCH_KO0,14.htm.
"Big data adds up to opportunities in math careers | Beyond the Numbers," U.S. Bureau of Labor Statistics. Retrieved March 2021 from https://www.bls.gov/opub/btn/volume-7/big-data-adds-up.htm.
"Big data market size revenue forecast worldwide from 2011 to 2027," Statista. Retrieved March 2021 from https://www.statista.com/statistics/254266/global-big-data-market-forecast/.