Earn Your Master's in Cybersecurity — 100% Online
Download a FREE Brochure
To get yours and speak with an enrollment counselor, complete the form below.
Why Choose Utica?
As a leader in economic crime programs for more than 25 years, Utica University offers expertly designed, 100% online cybersecurity programs to prepare you for success in the field. Our degree options include an M.S. in Cybersecurity degree with three career-focused specializations for enhancing your skill set.
The National Security Agency and the Department of Homeland Security have designated Utica University as a National Center for Academic Excellence in Information Assurance/Cyber Defense Education, and our programs have been lauded by the Defense Cyber Crime Center (DC3) and the EC-Council, one of the premier certifying bodies in cybersecurity. Additionally, our M.S. in Cybersecurity is ranked #13 for Best Online Master's in Cybersecurity Degrees in 2022 by Fortune Education. With these acclaims, choosing Utica University is a smart decision. In just two years, you can build the knowledge and skills you'll need to become equipped to lead cybersecurity efforts.
Utica University's fully online and flexible degree programs enable you to balance your personal and professional responsibilities while gaining the analysis skills and valuable insights to create positive change for organizations in business, health care, education, and more.
3 designations as a National Center of Academic Excellence
Prepare for industry certifications like Cloud+, CYSA+ and PenTest+
Land an in-demand role earning up to six figures1
Utica's M.S. in Cybersecurity was ranked a Best Online Master's in Cybersecurity Degree by Fortune.com in 20224
Guaranteed $500 Scholarship* (full terms below)
Apply by January 6, 2023, and start your degree in January 2023 to receive a guaranteed $500 scholarship* (full terms below). Applicable for the B.S. in Cybersecurity, B.B.A. in Cybersecurity Operations Management, M.S. in Cybersecurity, or M.S. in Cybersecurity Operations Management.
What Are Your Degree Options?
Utica University's convenient online programs position you for success in careers that directly fight against cybercrime and data theft. Gain the skills and know-how to lead efforts that protect data, assets, and reputation. Spend the next two years immersed in 30 credit hours of coursework that combine state-of-the-art practices in intelligence, forensics, and cyber operations. You have multiple options to craft your curriculum for particular roles of interest.
30 Total Credits; 2 Years; 100% Online
Prepare to lead cybersecurity efforts in business, government agencies, and investigative units. Acquire the knowledge necessary for professional certifications like Cloud+, CYSA+, and PenTest+.
This degree program offers a choice of three specializations including Digital Forensics, Cybersecurity Operations, and Cybercrime and Fraud.
30 Total Credits; 2 Years; 100% Online; $895 Cost Per Credit
Develop essential crisis response and management skills to stand out as a leader in the dynamic field of cybersecurity. The program also provides the academic credential to take the CompTIA ® Project+ and Security+ certification exams.
Courses include Project Management, Organizational Risk Management Frameworks, Networks and Internet Security, among others.
Utica University — A Legacy of Cyber Leadership
Renowned for its influence and expertise in cyber, Utica University is located in the heart of central New York, and is a comprehensive, independent, and accredited private institution.
Request Information >>
How Will You Learn & Grow?
Online learning is soaring in popularity, especially for those with irregular schedules and no/little access to a physical campus. Utica University presents online learners with the same rigorous curriculum, esteemed faculty, alumni network, and collaborative community found on campus. Make the decision to acquire the knowledge and skills that could take you to the next step in life and Utica University will be here to support you every step of the way.
What Is The Coursework Like?
With Utica University's carefully designed coursework, you'll gain advanced mastery and hands-on experience in cyber intelligence, critical infrastructures, and cybercrime investigative principles to face real-world challenges within the cybersecurity field. Benefit from online coursework that covers decision-making, ethics, leadership, and more. Participate in virtual residencies that provide extensive understanding within a specific discipline to build the confidence you need to meet the demands of various roles.
Highlighted Courses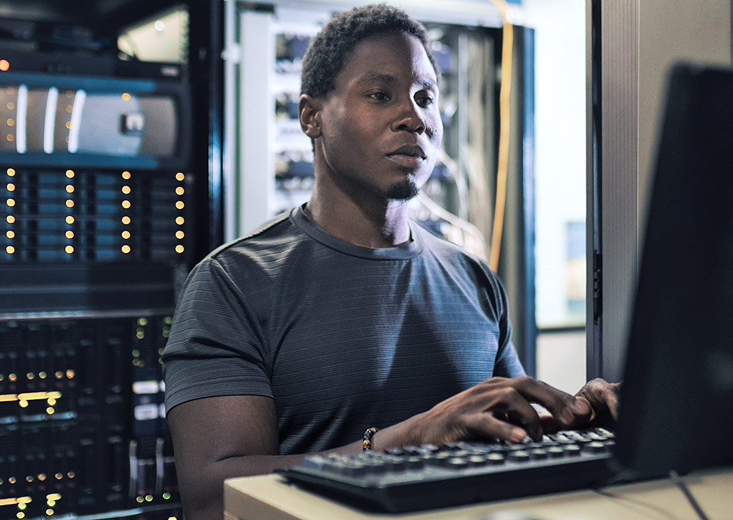 How In-Demand Is the Cybersecurity Field?
There is an extreme shortage of qualified candidates in the field today, making cybersecurity one of the best careers for employment opportunities where you can name your price and select from multiple offers. One industry expert stated, "It's a full-on war for cybertalent."2
Cybersecurity professionals stay up-to-date on vulnerabilities, exploits, and incoming attacks. Job responsibilities run the gamut – from serving as a primary point of contact for management and technical areas – to deploying internetworking technologies that protect assets. Utica's curriculum prepares you with the theoretical and foundational knowledge to enter the workforce as a top-tier professional.
Top Cybersecurity Careers3
Cybersecurity Manager ($136,625)
Manager of IT Cybersecurity ($136,264)
Cybersecurity Lead ($133,499)
Senior Cybersecurity Engineer ($132,558)
Director of Cybersecurity ($129,618)
Sources and Disclaimer
"Occupational Outlook Handbook: Information Security Analysts." BLS. Retrieved on July 12, 2021 from https://www.bls.gov.
"Cybersecurity Talent Crunch to Create 3.5 Million Unfilled Jobs Globally by 2021." Cybercrime Magazine. Retrieved on July 12, 2021 from https://cybersecurityventures.com.
"Cybersecurity Salary by Location." Ziprecruiter. Retrieved on July 13, 2021 from https://www.ziprecruiter.com.
"Best Online Master's in Cybersecurity Degrees in 2022" Fortune. Retrieved on August 29. 2022 from https://fortune.com.
*Students must apply by 1/6/2023, enroll in one of Utica University's online Cybersecurity programs (B.S. Cybersecurity, M.S. Cybersecurity, B.B.A. Cybersecurity Operations Management, and M.S. Cybersecurity Operations Management), be accepted by the institution, and start classes on or before 1/17/2023 in order to be eligible for this scholarship. A limited number of tuition discount scholarships are available on a first-come, first-serve basis. Eligible students will receive a total credit towards tuition of $500 which shall be provided in 2 financial aid disbursements of $250; this credit is not refundable to you. To confirm tuition discount and online program details, please consult an enrollment counselor at uticaonline@utica.edu. Please note that the scholarship offer is for tuition only and could affect your financial aid award. Please contact the Financial Aid office to discuss it further. Information presented may be revised without notice.