Health Care Administration Degrees Online
Download a FREE Brochure
To get yours and speak with an enrollment counselor, complete the form below.
Improve Patient Care and Career Prospects with A Degree in Health Care Administration
Gain the Competencies and Confidence to Change Health Care from Within
Prepare to help others while pursuing new and exciting advancement opportunities in a variety of health care organizations by taking advantage of Utica University's robust degree programs online in Health Care Administration (HCA). Each is designed to help you excel in one of health care's most in-demand professions and to secure more lucrative management positions.
Utica University's health care administration degree and certificate programs online enable you to balance your personal and professional responsibilities while gaining the analysis skills and valuable insights to create positive change for organizations in business, health care, education, and more.
+32% job growth through 2030, adding more than 139,600 jobs1
Top 10% of medical and health services managers earn more than $205,0001
Total compensation for top financial hospital executives totaled over $500,000 in 20202
Health care is the largest and fastest-growing job market in the United States economy3
Save Time, Save Money, Save Lives
Regardless of which program you choose, you'll benefit from a carefully curated and rigorous curriculum focused on the health care continuum. You'll broaden your professional knowledge and have ample opportunities for networking – a key component in gaining a competitive edge upon graduation. Each program's curriculum prepares you to manage:
Hospitals, hospices, and medical clinics
Government health care agencies
Insurance companies
Health care research institutions
Nursing homes, rehabilitation centers, and convalescent homes
A Degree for Every Stage of Your Career
Each program's flexibility enables you to study when and where it's most convenient for you and sets you up for success in a variety of health care administration careers.
120 credits; 2-4 years; open to first-year and transfer students
Navigate the complexities of health care laws, regulations, and technologies while using expert business knowledge to deliver quality health care services and meet organizational goals.
Complete an online Minor in Healthcare Management and gain 15 credit hours of graduate-level courses that transfer directly to the MHA and allow you to earn your master's degree in just one more year.
36 credits; 2 years
Gain the tools for continued success and prepare to oversee the administrative aspects of a health care organization, including acting as a liaison with insurance companies, stakeholders, and the community.
30 Credits; 2 Years; ACBSP Accreditation; 100% Online
Learn the broad aspects of service-sector management and strategic planning to drive successful health-service delivery. Apply tools and assessment methods that impact all levels of health care and improve overall organizational performance.
15 credits; 1 YEAR
Acquire the knowledge and skills to meet the educational requirements for students pursuing their Nursing Home Administrator license in New York.*
Plus, you can apply the credits earned while completing your certificate toward a graduate program at Utica University.
*The curriculum for Utica's Nursing Home Administrator Certificate meets the course requirements for Nursing Home Administrator licensure in some states. Check with your state's licensing agency or contact the program admissions manager to verify the necessary coursework.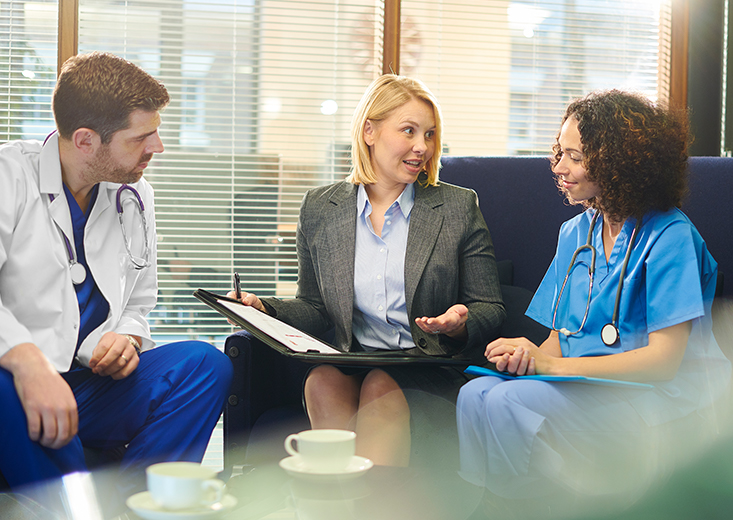 Learn Operational Aspects of Health Care to Prepare for Leadership Opportunities
The rapid pace of change in the health care industry is moving faster than ever, making the need for formal training even more essential to leadership operations. Regardless of your eventual career path, Utica's Health Care Administration programs online prepare you to deliver value-based care, ensure patient satisfaction, and achieve better outcomes. With your degree in-hand, you'll be prepared for additional roles such as:
Direct Care Coordinator
Informatics Director
Compliance Officer
Research Director
Director of Nursing Services
Facilities Manager
Marketing Director
Sources
"Medical and Health Services Managers | Occupational Outlook Handbook," U.S. Bureau of Labor Statistics. Retrieved August 2022 from https://www.bls.gov.
"2021 Hospital Executive Compensation Survey," Total Compensation Solutions. Retrieved August 2022 from http://www.total-comp.com.
"December Sets Record for Healthcare Job Growth as Total Industry Employment Reaches 16 Million," AMN Healthcare. Retrieved March 2021 from https://www.amnhealthcare.com.