Earn Your B.S. in Cybersecurity — 100% Online
Download a FREE Brochure
To get yours and speak with an enrollment counselor, complete the form below.
Note: All fields required.
Options for Further Advancement in Education
Why Choose Utica?
You're looking to join a highly regarded cybersecurity institution because you're serious about your career. Utica University is designated as a National Center of Academic Excellence in Cyber Defense Education (CAE-CD) by the National Security Agency (NSA), and the Department of Homeland Security. Additionally, Utica University is one of fifteen colleges and universities in the country designated as a National Center of Digital Forensics Academic Excellence (CDFAE) by the Defense Cyber Crime Center (DC3) – prestigious credentials that employers trust. By choosing Utica, you'll adopt expert-level skills that will help you achieve success as a cybersecurity professional with applied strategies for defending, preventing, and upgrading to protect companies and organizations. Enjoy the convenience of 100% online coursework crafted to work with your personal schedule. At Utica, we support you every step of the way.
Utica University's fully online and flexible degree programs enable you to balance your personal and professional responsibilities while gaining the analysis skills and valuable insights to create positive change for organizations in health care, education, and more.
Earn CompTIA certifications (many are built into the classwork)
Receive digital badges and proudly display them on social media accounts
Average salary for entry-level roles: $100,6771
The No. 1 concern among CEOs is cyber threats2
33% job growth3
Continue Your Undergraduate Education
This online degree is also a completer program, which means that students may transfer credits into an undergraduate program at Utica University. Students may also complete all 120 credits at Utica University as a full, undergraduate degree. Candidates for the baccalaureate degree must satisfactorily complete a minimum of 30 credit hours of study at Utica University. A maximum of 90-98 credits may be transferred from four-year institutions, and 60-64 from two-year institutions, depending on one's academic major. Transfer students who matriculate with 60 or more credits need to declare a major upon entering Utica University.
You Can Tailor Your Learning
Following the best practices of federal agencies and multi-national corporations like the Secret Service, U.S. Postal Inspection Service, Securities and Exchange Commission, Deloitte, Prudential, and K2 Intelligence, our programs impart the knowledge, skills, and strategies you need to enter one of the most in-demand fields. Utica University's Bachelor of Science in Cybersecurity offers three specializations for customizing your degree to your career goals.
Specializations
100% online; 120 credits; 2-4 years
Combines computer science and computer forensics to help you safely and ethically collect digital evidence, recover data, and organize digital imaging to help law enforcement prosecute those responsible for cybercrimes. Learn how to prevent attacks and make an organization's network stronger.
100% online; 120 credits; 2-4 years
Helps you catch criminals with the latest state-of-the-art tools. Build your experience using cryptography, computer forensics, and steganography techniques. Learn to leverage the latest technologies to conduct cybercrime and fraud investigations and bring white-collar criminals to justice.
100% online; 120 credits; 2-4 years
Gain expert-level knowledge with a focus on cyber-defense strategies that keep organizations safe from cyber threats. You'll learn to embed security measures directly into the emerging Global Information Grid and create encryption codes that allow users to pass information between systems securely.
Utica University — A Legacy of Cyber Leadership
Renowned for its influence and expertise in cyber, Utica University is located in the heart of central New York, and is a comprehensive, independent, and accredited private institution.
Request Information >>
How Will You Learn & Grow?
Online learning is soaring in popularity, especially for those with irregular schedules and no/little access to a physical campus. Utica University presents online learners with the same rigorous curriculum, esteemed faculty, alumni network, and collaborative community found on campus. Make the decision to acquire the knowledge and skills that could take you to the next step in life and Utica University will be here to support you every step of the way.
What Will You Learn?
Within your 120-credit hour program of study, you'll build foundational knowledge, study professional development courses, and specialization subject matter as well as your own chosen electives. You'll gain cutting-edge skills necessary to stay at the forefront of cybersecurity. You'll learn how to defend networks and information systems against cyber-attacks with industry-specific courses that develop strategy and critical software install plans.
Highlighted Courses
Computer Hardware and Peripherals
Computer hardware and peripherals and other digital media used in commission of cyber-crimes. Hands-on examination of devices, including building, configuring, upgrading, troubleshooting, diagnosis, and repair.
Jurisprudence of the Criminal Law
Learn about criminal law as a process for dispute settlement and maintenance of order by the state. You'll focus on legal reasoning, legal process, and necessity to maintain historical continuity and doctrinal consistency.
Information System Threats, Attacks & Defenses
Methods and motives of cyber-security incident perpetrators, and the countermeasures employed to organizations and agencies to prevent and detect those incidences. Ethical obligations of security professionals.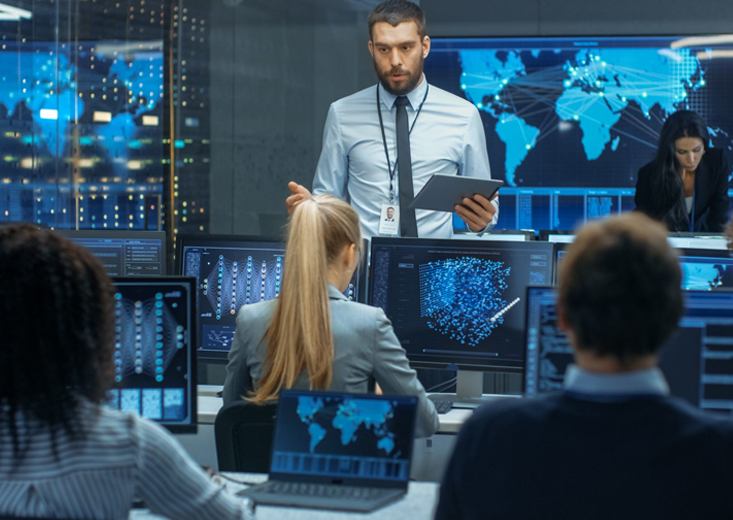 Apply Your Learned Skills
Whether you desire to examine deviant behaviors, solve security incidents within an IT department, or work on preparing company policies and procedures to protect companies, there are myriad roles within the exploding field of cybersecurity. While the salary of various cybersecurity roles varies, top earners (90th percentile) are earning $185,500 annually across the United States.4 Those who do well in this career are tenacious, focused, and have a passion for technology.5
Top Careers in Cybersecurity6
Cybersecurity Analyst ($107,500)
Software Developer/Engineer ($110,140)
Cybersecurity Consultant ($92,504)
Vulnerability Analyst/Penetration Tester ($101,091)
Cybersecurity Manager/Administrator ($130,000)
Network Engineer/Architect ($83,510)
Systems Engineer ($90,920)
Senior Software Developer ($151,960)
Systems Administrator ($80,600)
Sources and Disclaimer
"How to Transition from Computer Networking to Cybersecurity." CompTIA. Retrieved on August 2, 2022 from https://www.comptia.org.
"PwC 25th Annual Global CEO Survey." PwC. Retrieved on August 2, 2022 from https://www.pwc.com.
"Occupational Outlook Handbook: Information Security Analyst." BLS. Retrieved on August 2, 2022 from https://www.bls.gov.
"Cybersecurity Salary by Location." Ziprecruiter. Retrieved on August 2, 2022 from https://www.ziprecruiter.com.
"Career Outlook: Interview with a Cybersecurity Consultant." BLS. Retrieved on July 13, 2021 from https://www.bls.gov.
"Best Jobs in Cybersecurity for 2022 and How to Get One." CompTIA. Retrieved on August 2, 2022 from https://www.comptia.org.