Earn Your 100% Online Degree or Certificate
Download a FREE Brochure
To get yours and speak with an enrollment counselor, complete the form below.
Note: All fields required.
Generous Transfer Credit Policy
Accredited MSCHE, ACBSP & CCNE
Make an Impact with an Online Degree
Founded in 1946 as an independent, private institution, Utica University offers a broad range of opportunities to grow personally and intellectually within a flexible and affordable online format. Earn a career-advancing bachelor's degree, master's degree, doctorate degree, or certificate in some of the nation's fastest-growing sectors, such as cybersecurity, fraud and health care.
You'll get a one-of-a-kind education that can be completed at your pace. We're accredited by the Middle States Commission on Higher Education which affirms you'll receive an exceptional and rigorously evaluated online education as a Utica student.
At Utica, you'll experience the academic quality and opportunities of a large university with the intimate class sizes and personal attention of a small college.
Utica University's fully online and flexible degree programs enable you to balance your personal and professional responsibilities while gaining the analysis skills and valuable insights to create positive change for organizations in health care, education, and more.
Utica University is ranked #64 in Regional Universities North by U.S. News & World Report.1
Our programs have been recognized for their excellence by the National Security Agency, the Department of Homeland Security, the Department of Defense, SR Education Group, BestDegreePrograms.org, TheBestSchools.org, Study.com, and more.
In 2023, we were ranked a 100% Military-Friendly® University by Viqtory.*
A Full Range of Outstanding Programs
Utica University offers an array of online certificates and bachelor's, master's and doctorate degrees in Cybersecurity, Financial Crime Prevention, and Health Care.
Cyber terrorists typically target data, the information business leaders use to make decision based on facts, statistics and trends. Add to that the threat of the dark web – potentially 5,000 times larger than the surface web – and it's immediately clear why the demand for highly trained cybersecurity professionals is at an all-time high throughout the public and private sectors.
B.B.A. in Cybersecurity Operations Management
B.S. in Cybersecurity (3 specializations offered)

Digital Forensics and Incident Response Specialization
Cybercrime and Fraud Investigation Specialization
Cyber Operations Specialization

M.S. in Cybersecurity (3 specializations offered)

Digital Forensics Specialization
Cybersecurity Operations Specialization
Cybercrime and Fraud Specialization

M.S. in Cybersecurity Operations Management
Organization threats are coming from so many directions – cyber attacks, data breaches, financial fraud, internal corruption and even organized crime – that successful organizations are staffing up with highly trained professionals skilled in the identification, prevention and protection from both cybercrime and more traditional rackets.
B.S. in Fraud and Financial Crime Investigation (2 specializations offered)

Financial Investigation Specialization
Fraud Prevention and Detection Specialization

M.S. in Financial Crime and Compliance Management
There are myriad popular career paths in the health care industry and all are focused on helping patients receive the care they need to improve their health and wellness. Whether your desire is to work directly with patients or to serve in an administrative or managerial role, a degree is essential. It can prepare you for success, provide greater job stability and set the stage for you to take your career to the next level.
B.S. in Health Sciences

Transitional Doctor of Physical Therapy (tDPT)
Advance your nursing career with CCNE-accredited programs built around research-backed curricula and expert faculty. With programs at the bachelor's, master's, and certificate level, prepare to grow as a leader in the field with the expertise needed to stand out in your institution or organization.
B.S. in Nursing (RN-BSN)
M.S. in Family Nurse Practitioner (FNP)
M.S. in Nursing Leadership
M.S. in Nursing Education
Nursing Home Administrator Certificate
Family Nurse Practitioner (FNP) Certificate
Nursing Leadership Certificate
Nursing Education Certificate
Gain the recovery values, approach, and tools to create a more just and humane society. Bring your vision for the promotion and treatment of mental health to life through a program that will equip you with the ability to respond to and provide innovative solutions that promote dignity, autonomy, and mental health among diverse populations. This program is also available as an advanced standing program to help you graduate faster.
Master of Social Work (MSW)
Master of Social Work (MSW) – Advanced Standing
Utica University ensures academic and financial flexibility for veterans, providing a 10% tuition discount on online programs for Active Duty, Reserve, and Guard members and their spouses. Utica University is a proud Yellow Ribbon participant, making additional funds available for your education program without an additional charge to your GI Bill entitlement.
Request Information >>
How Will You Learn & Grow?
Online learning is soaring in popularity, especially for those with irregular schedules and no/little access to a physical campus. Utica University presents online learners with the same rigorous curriculum, esteemed faculty, alumni network, and collaborative community found on campus. Make the decision to acquire the knowledge and skills that could take you to the next step in life and Utica University will be here to support you every step of the way.
A Fully Supported Online Learning Experience
As an online student with Utica University, you have access to a wealth of technology services and benefits to support your academic success. Our online courses use online learning environments such as Engage and Canvas. These robust programs let you submit your homework, interact with your classmates, receive updates from your instructor, and more. We also use Google Apps for Education to provide you with email storage, cloud storage space, Google Calendar, and many other useful features. In addition, your records will be easily accessible through BannerWeb, which allows you to view information such as your transcript, schedule, and financial aid at any time.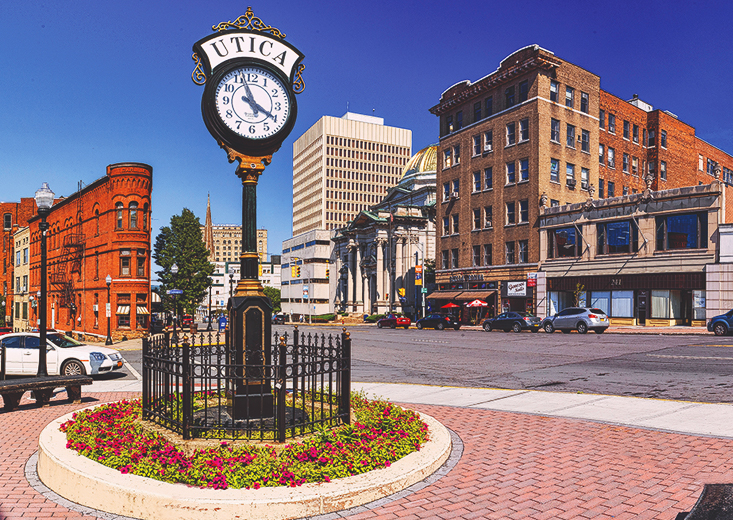 Education Pays
Across the spectrum of industries, university degree holders earn more money than those who haven't completed or even started a post-secondary program. Not only do degree holders make more, statistics from the U.S. Department of Labor show that the higher the degree earned, the lower the unemployment rate.
Utica University has 25,000+ alumni in leadership positions across industries worldwide.
2021 Median Annual Salaries/Unemployment Rates by Education Level2
High school diploma $42,068/6.2%
Bachelor's degree $69,368/3.5%
Master's degree $81,848/2.6%
Doctoral degree $99,268/1.5%
Professional degree $100,048/1.8%
Sources and Disclaimer
"Utica University," 2024 Best Colleges Rankings, U.S. News & World Report. Retrieved October 3, 2023, from https://www.usnews.com.
"Education Pays," Employment Projections, Bureau of Labor Statistics, U.S. Department of Labor. Retrieved March 17, 2023 from https://www.bls.gov.
*©2023 VIQTORY | Military Friendly® is owned and operated by VIQTORY, a service-disabled, veteran-owned small business. | VIQTORY, Military Friendly®, trademarks and logos are not affiliated with nor the property of the Department of Defense or any other federal agency.