Bachelor of Business Administration (B.B.A.) Online
Download a FREE Brochure
To get yours and speak with an enrollment counselor, complete the form below.
90 Credits can be Transferred
100% Online, Flexible Format
Open to First-Year and Transfer Students
Take the Next Step in Your Personal and Professional Development
Gain the knowledge, skills, and hands-on business experience that comes with a B.B.A., one of the most versatile business degrees available. Our online B.B.A. programs provide you with a solid foundation in business fundamentals and an understanding of how these principles apply in real-world work environments. Along with grasping an understanding of how businesses operate, you'll also develop the soft skills – interpersonal communication, critical thinking, decision making – to become an asset in any business environment. Plus, our flexible degree programs enable you to tailor your education to meet your professional goals.
Utica University's fully online and flexible degree programs enable you to balance your personal and professional responsibilities while gaining the analysis skills and valuable insights to create positive change for organizations in business, health care, education, and more.
Top 10% of entry-level salaries averaged nearly $80,0001
+5% job growth in business and finance, with more than 476,000 new jobs, through 20292
Dynamic job growth – operations research analysts (+25%), medical and health service managers (+32%), financial managers (+17%) – in multiple fields through 20303
Continue Your Undergraduate Education
This online degree is also a completer program, which means that students may transfer credits into an undergraduate program at Utica University. Students may also complete all 120 credits at Utica University as a full, undergraduate degree. Candidates for the baccalaureate degree must satisfactorily complete a minimum of 30 credit hours of study at Utica University. A maximum of 90-98 credits may be transferred from four-year institutions, and 60-64 from two-year institutions, depending on one's academic major. Transfer students who matriculate with 60 or more credits need to declare a major upon entering Utica University.
In-Demand B.B.A. Degrees for Today's Fastest-Growing Fields
120 Total Credits; 4 Years; 100% Online; $420 Cost Per Credit
Prepare for the Certified Public Accountant (CPA) credential by producing, communicating, and interpreting financial statements through a variety of rewarding accounting and business careers.
Curriculum focuses on contemporary business issues and explores the effective application of managerial decision-making techniques in a variety of professional settings.
120 Total Credits; 4 Years; 100% Online; $400 Cost Per Credit
Experiential learning opportunities provide insight into how companies operate in a constantly evolving, global market. Tech-based business simulations enhance your understanding of decision-making and operations management in business.
120 Total Credits; 4 Years; 100% Online; $420 Cost Per Credit
Use the latest analytical tools to evaluate modern business issues and make effective decisions using data.
Courses include Data Application for Business, Business Analytics, Data Modeling for Business, Simulation and Risk Analysis, among others.
120 Total Credits; 4 Years; 100% Online; $475 Cost Per Credit
Gain the essential technical skills and management expertise to defend businesses from cyber attacks.
Courses include Data Management, Software Foundations for Cybersecurity, Computer Network Investigations, Cyber Operations Tools, among others.
8 of the top 10 majors in demand by employers at the bachelor's degree level are in business, including finance, accounting, and business administration.4
Request Information >>
How Will You Learn & Grow?
Online learning is soaring in popularity, especially for those with irregular schedules and no/little access to a physical campus. Utica University presents online learners with the same rigorous curriculum, esteemed faculty, alumni network, and collaborative community found on campus. Make the decision to acquire the knowledge and skills that could take you to the next step in life and Utica University will be here to support you every step of the way.
What You'll Study
Regardless of which B.B.A. degree you pursue, you'll experience a full range of business core courses, including Principles of Organization and Management, Strategic Management and Leadership, Financial Accounting, Principles of Marketing, Micro- and Macroeconomics, and The Legal Environment of Business, among others. Each of Utica's B.B.A. programs includes a range of courses specific to the area of emphasis.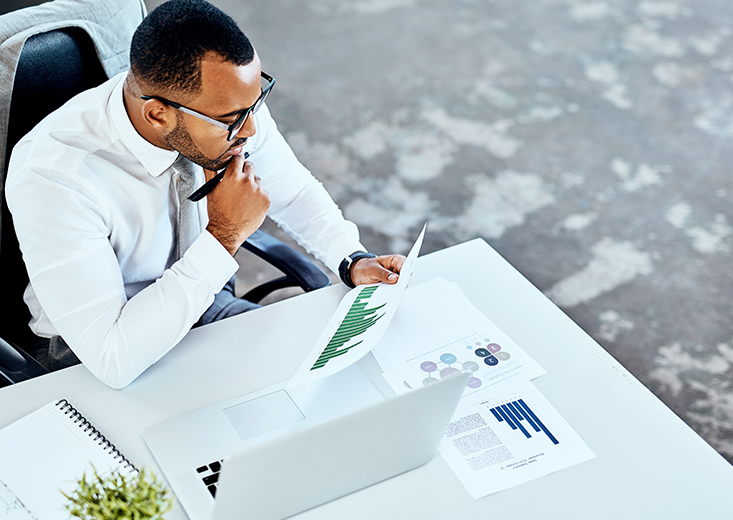 What Can You Do with This Degree?
A B.B.A. degree online from Utica University is one of the most valuable degrees you can earn because of the myriad opportunities waiting for you after graduation. Your B.B.A. degree gives you a window into all functions of business and enables you to customize your degree based on your personal and/or professional interests, such as accounting, business administration (with additional specializations), or data analytics. Along with paving the way toward success in sectors like banking and finance, your B.B.A. can set you up for success in a variety of industries and occupations.
Project Management
Customer Relations
Member Services
Real Estate
Entrepreneurship
Nonprofit Management
Information Systems
Sales & Marketing
Sources
"Bachelor of Business Administration (BBA) Salary," PayScale, Inc. Retrieved May 2021 from https://www.payscale.com.
"The Salary for Business Administration Right Out of College," work.chron.com. Retrieved May 2021 from https://work.chron.com.
"Home | Occupational Outlook Handbook," U.S. Bureau of Labor Statistics. Retrieved August 2022 from https://www.bls.gov.
"Job Outlook 2018: College Hiring to Increase by 4 Percent," National Association of Colleges and Employers. Retrieved May 2021 from https://www.naceweb.org.